Back to events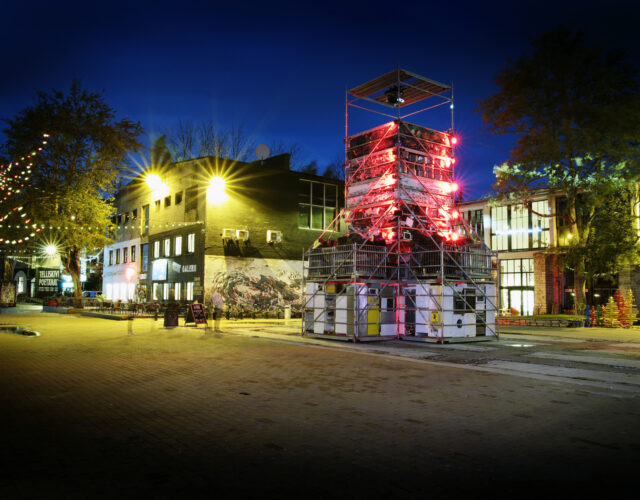 Exhibits, Muu, Näitus, Other
The Lighthouse
e-Waste Lighthouse symbolizes the amount of such waste generated in Estonia in one day – 25 tons. The Lighthouse will be 10 meters high.
Under the guidance of sculptor Elo Liiv, the Estonian e-waste Lighthouse has been emerging in the central square of Telliskivi Creative City.
"The Lighthouse symbolizes 125 cubic meters of electrical and electronic waste generated in Estonia in one day," said sculptor Elo Liiv. "Let this Lighthouse remind us all of the importance of recycling for household appliances and other devices to reduce our carbon footprint. Waste must always be taken to collection points," added Liiv.
"Every day, many old household appliances and other electronic devices in Estonia are not properly disposed of – they will not make it into the hands of manufacturers or certified waste management companies," says Margus Vetsa, board member of the producer responsibility organization EES-Ringlus. "So they are also not recycled, and improper handling increases our common ecological footprint."
"Big things start with small steps, so bring your broken home appliances, big and small, to waste stations and collection points! The place for power operated items that have become useless, starting from a remote-controlled car, all the way to a refrigerator, is not in or near the garbage bin. Depending on their size, they should be delivered to the place of purchase or the waste station," added Margus Vetsa.
Every year, on 14 October, International E-Waste Day is celebrated.
In Estonia, it is estimated that 9,000 tonnes of e-waste are generated annually, of which 4,000 tonnes are collected through waste stations and collection points (see kuhuviia.ee ), and the vast majority of these reprocessed materials are recycled. If you entrust your waste to the right people,
it is possible, for example, to recycle 95% of your old refrigerator.
However, about 55% (5,000 tonnes per year) of electronic waste are transported via other routes in Estonia, and manufacturers cannot confirm that these materials are recycled.
In the world, only 20% of e-waste is recycled every year. This means that 40 million tonnes of e-waste per year are disposed of in landfills, incinerators, or sold to countries without proper treatment options. Illegal shipments of waste to developing countries cause serious health, environmental and social problems.
60a/1
60a/2
60a/3
60a/5
60a/5
60a/9
60a/8
60a/7
60a/7
60a/4
P
60a/10
60a/6