Back to events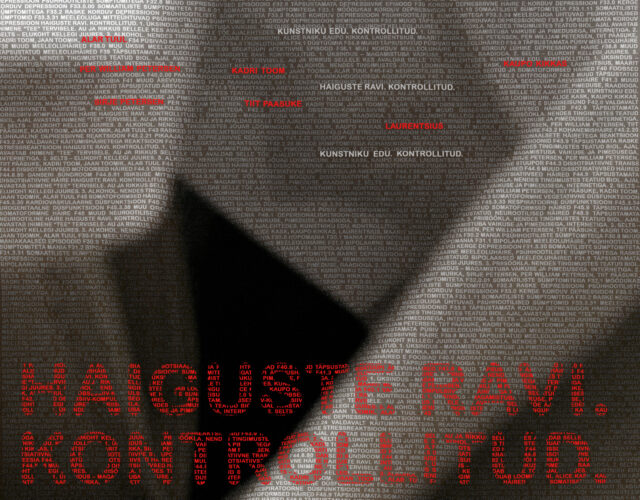 Exhibits, Näitus
Treatment of Diseases. Controlled.
From January 18, the exhibition Treatment of Diseases. Controlled., Which talks about mental health through the new works and video interviews of ten Estonian artists. The exhibition will be accompanied by talk evenings and film evenings, where artists and clinical psychologists and psychiatrists will discuss the effects of creation and creation on the psyche. The exhibition will be open until February 26.
T – R 12–18, L 12–16
Telliskivi 60A / 5, Tallinn
Everything strikes from time to time in a bad mood or worry, sometimes the mood and motivation can go down to depression, and constant worry can lead to the unbearable constantly. Serious trauma can happen to even the nicest person.
The greater openness of artists to experience also poses a greater challenge to the psyche. There are different ways to give shape and color to a psychic experience. Such expression may have an artistic meaning or engage in new works. Thus Ülo Kiple's irrational, wall-written thinking Treatment of Diseases. Controlled. Brought him the title of Estonia's first graffiti artist and was the source of songs, short stories, films and plays. Among other things, his work is essentially imitated in the pastry of the Sõpruse bridge in Tartu, "The Artist's Success. Checked. "
In the works created for this exhibition, the artists depict their experiences and mental problems, coping skills and adaptability. However, the exhibition goes beyond impression and assumption, allowing artists to open their personal psychological challenges and background in private in video interviews. "We will turn the art hall into a psychotherapy session or – as it would have been said during Ülo Kiple's operation – a 'madhouse'," explains Katri-Evelin Kalaus, the curator of the exhibition, clinical psychologist and psychotherapist.
The exhibition discusses whether the work is a way for the artist to solve different mental states and problems, or rather the need for personal self-expression. Is creation in a self-therapy studio and then the art hall becomes a palace? How can an artist distance himself from trauma or bring relief to an experienced and depressed mood through his work? To what extent can an art observer identify with the artist's problems, receive relief and support in coping with everyday life?
At the exhibition and during the conversation evenings and film evening, clinical psychologists and psychiatrists will discuss with artists the effects of creation and creation on the psyche. Artists Alice Kask, Kaupo Kikkas, Laurentsius, Maarit Murka, Per William Petersen, Sirje Petersen, Tiit Pääsuke, Kadri Toom, Jaan Toomik and Alar Tuul will participate in the exhibition.
60a/1
60a/2
60a/3
60a/5
60a/5
60a/9
60a/8
60a/7
60a/7
60a/4
P
60a/10
60a/6
Outdoor Gallery
Backyard