Back to events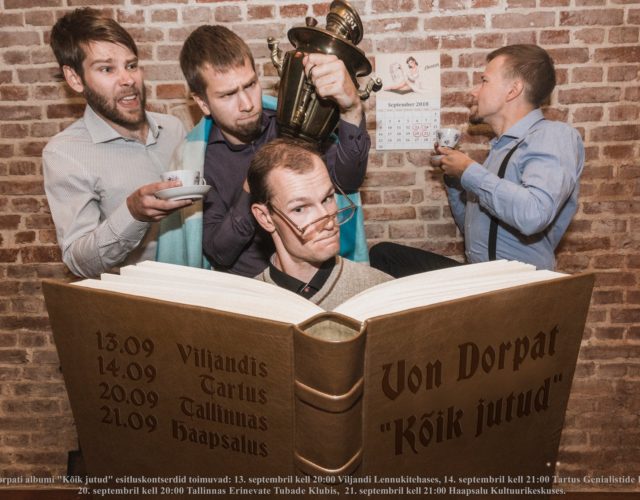 Music
Von Dorpat – "Kõik Jutud" presentation concert
The long wait is finally over and Von Dorpat gets his long acting!
It is believed that the disc lifts new tracks in ancient music into Estonian music –
tracks where the wind quenches the sexiest white man's soul, where the trees shield a sophisticated linguistic mother tongue, and where the sun heats up at home, but brasses abroad.
The world described above is now possible to experience again and again, as the whole work of the band and our supporters has resulted in the completion of the Von Dorpat's "All Stories" first album!
"All Stories" – this is a complete piece of twelve chapters that summarizes the most engaging, personalized and funny stories of the adventure of Von Dorpat!
But before we can come up with an irresistible dessert, we can provide you with the basics of all that live-in performance! All stories, friends!
Concert Night Schedule:
20:00 – We open the doors
20:30 – the heating band will step on stage
21:15 – Von Dorpat and "All Stories"
22:30 – the ensemble will share autographs and make a picture for everyone
You can buy a ticket for € 5.
You can buy a disc for 10 euros.
Listen and get ready:



The host is Taavi Taros.
60a/1
60a/2
60a/3
60a/5
60a/5
60a/9
60a/8
60a/7
60a/7
60a/4
P
60a/10
60a/6
Outdoor Gallery
Backyard
Tule siit sisse