Back to events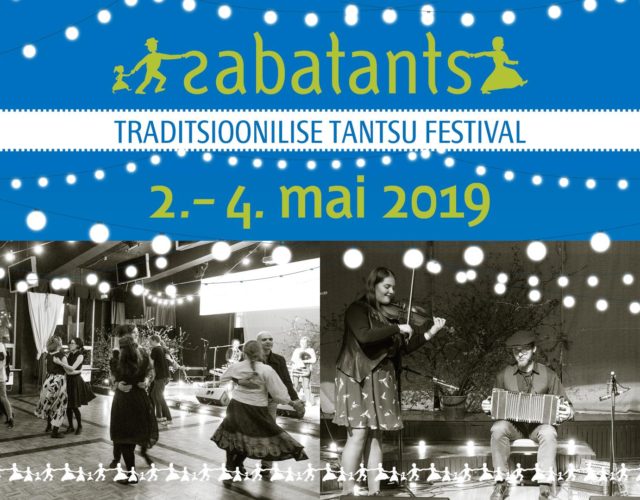 Festivals, Music
Dance Festival Sabatants
Sabatants – festival that honours traditions and offers joy of dancing!
– 5 workshops from beginners to advanced
– 2 seminars to listen, learn and participate
– Dance evenings that carry the sentiment and style of traditional village parties
Performers:
* Bozhychi (Ukrainia)
* Bricka (Latvia)
* Folk music students from Sibelius Academy (Finland)
¤ Juhan Uppin
¤ Aivar Arak
¤ Duo Mänd/Krüsban
¤ Heino Sõna company
¤ Kadri Lepasson
¤ Siim Sarv
¤ Eva Väljaots
¤ Katariina Tirmaste
¤ Natali Ponetajev & Johan Kristjan Aimla
¤ Maarja Sarv & Leanne Barbo
¤ Herbert Konnula & Oliver Leppik
Welcome to the festival Sabatants!
Sabatants offers 3 days full of dancing along with live music. During the festival, you can enjoy dancing polkas, waltzes and reinlenders just as they were danced at old village parties – along with many other old, but ever-popular dances that have become known and appreciated in our traditional culture.
As always, Sabatants is not limited to only Estonian tradition – this year, you can get a taste of Ukrainia, Lithuanian, Latvian and Finnish dance culture and music. Workshops and seminars offer a chance to learn about and appreciate traditions of our foreign friends.
For those who are new to traditional dancing, daily workshops offer a wonderful possibility of learning the basics and later practising acquired skills during the evening parties.  The dancefloor is full of experienced dancers and kind people who will gladly help you find your way around the steps.
Those who already feel at home on the dance floor can perfect their steps and movements, enjoy learning new dances, enjoy the atmosphere and extend their knowledge – there are new and exciting things to learn even for the most experienced dancer.
The morning seminars offer insights and new interesting information to supplement the practical knowledge acquired in workshops. Everyone is always welcome to ask questions and share their own experiences!
Sabatants is taking place for the 9th time and for many dancers and musicians, it has become the highlight of the year.
Come alone, with a partner or a group of friends – nobody is left out. Everyone can enjoy dancing, good music, making new acquaintances and finding new favourite dances!
Tickets:
– Full pass 30€
– Groups of 4 and more 24€ (only on presale)
– One day ticket 15€ (on premises)
– Dance club 10€ (on premises)
– Workshop 5€ (on premises)
– Children up to 12 y.o. free of charge and very welcome
Tickets on sale at Piletilevi
60a/1
60a/2
60a/3
60a/5
60a/5
60a/9
60a/8
60a/7
60a/7
60a/4
P
60a/10
60a/6
Outdoor Gallery
Backyard
Tule siit sisse