Back to events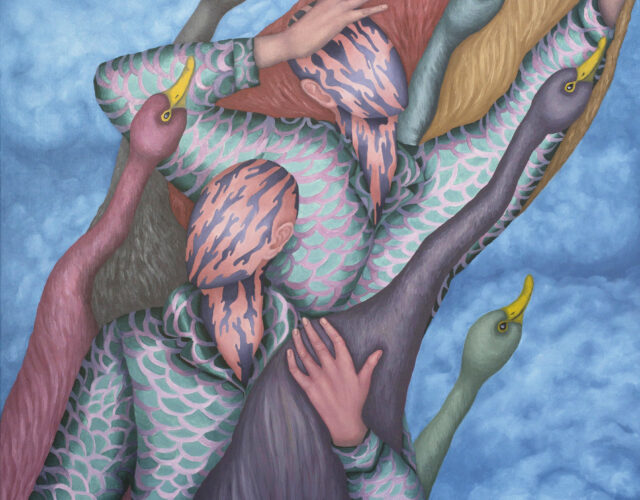 Exhibits, Näitus
Anu Muiste's exhibition "Sensitive Traveller"
Anu Muiste's sixth solo exhibition Sensitive Traveller explores the topic of sensitivity through various theoretical and personal experiences, searching for opinions and cultural connections related to sensitivity. For the first time, the artist's digital paintings are also on display in printed form. The exhibition shows the series Night Rituals which consists of three works, inspired by the moonlight and the mystery associated with night. Butterflies on the other hand, is a series of sculptures – another medium Muiste works with. 
"Recently, I was reminded of a strange sentence from my childhood: "Don't be so sensitive!". I remember that this sentence was said often and to many others as well. Sensitivity meant weakness. Nobody wanted to be weak, especially the boys, and besides, at that time, a sensitive person was an extremely strange thing. I also wanted to be a strong and good girl, but it didn't work out for me," talks Muiste.
Carl Jung was the first to examine sensitivity and he associated it with introversion. Fortunately, this connection is no longer valid today. In fact, this would be too easy an explanation for a complex construct. Sensitivity took on a new meaning in the 1990s when psychologist Elaine N. Aron was able to empirically prove with a questionnaire she had developed that HSP (Highly Sensitive Person) is a trait of character. People with this trait have a sensory-processing sensitivity, which means that they process physical, emotional, and social information more deeply. However, looking at the cultural context, one might think that sensitivity versus insensitivity is related to the age of a culture. In Japan, sensitivity is perceived as a good trait of character, which indicates that a person considers others. In more aggressive and younger cultures, such as North American, where high level of competition is a norm, sensitivity is perceived as a weakness, and traits of character related to it are concealed. What about sensitivity in our culture? Where are we on this scale? These questions are also on the foreground at Muiste's paintings.
Anu Muiste has a background in psychology and is known for her unique style of painting and a deep social cognition. Her paintings are like philosophical explosions, where the real message is mixed with a surreal form, but painted gracefully and sensitively. Muiste mainly uses oil paints alongside smaller-scale sculptures and digital paintings. She is an active member of the Estonian Painters Association and has participated in group exhibitions both in Estonia and Finland. All works at the exhibition were completed between 2021–2022 and partly shown at the Kastellani House exhibition.
60a/1
60a/2
60a/3
60a/5
60a/5
60a/9
60a/8
60a/7
60a/7
60a/4
P
60a/10
60a/6
Outdoor Gallery
Backyard
Telliskivi Loomelinnaku galerii