Back to available spaces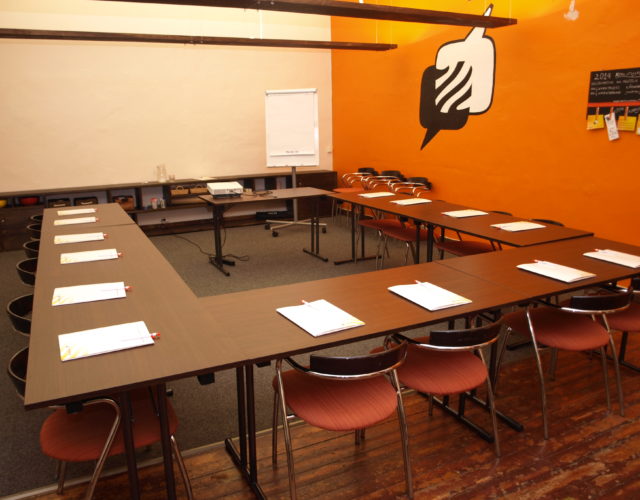 Seminars & meetings
Seminar room Sõna
Room features:
The size of the room is 45 m².
The room has a flipchart, white-board and data projector with VGA and HDMI connection.
The room has electrically adjustable table legs on one table.
The room has a jabra speaker for calls / training, speakers for background music, extension cords, a VGA – mini DisplayPort switch, papers, pens and more for convenient training or a meeting.
Telia's light cable (20m / 20m) is a high-speed Internet connection.
Lighting is a unique and handcrafted solution specially designed for a training room, which is turned to reflect down from the ceiling and does not stand out to people and is not tiring. The solution is suitable for the working environment and eyes – the light reflected from the ceiling provides 300-350 lux of work light in the room.
The room has a sink, glasses and a water jug.
Cost
The price of the training room is 180 euros + km.
Up to 3-hour booking 95 euros + km.
The price includes 30 minutes of preparation time for the Customer before the start time of the reservation.
If you cancel less than three working days before the scheduled event, 30% of the total amount will be charged.
60a/1
60a/2
60a/3
60a/5
60a/5
60a/9
60a/8
60a/7
60a/7
60a/4
P
60a/10
60a/6
Outdoor Gallery
Backyard