Back to events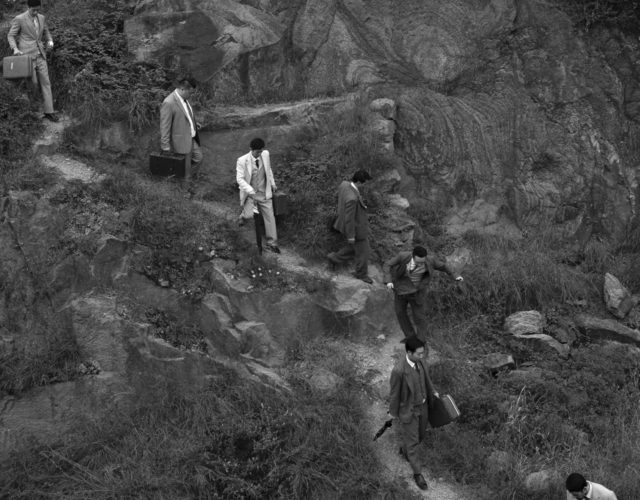 Exhibits
Yang Fudong "Moving Mountains"
Fotografiska Tallinn's autumn season is completed this Friday by "Moving Mountains", exhibition by Beijing-born Chinese artist and director Yang Fudong. For the first time in Fotografiska Tallinn's short history the focal point of the exhibition is a black and white film combined with sketches and photographs prepared for the film set-up.
In his exhibition "Moving Mountains" Yang Fudong takes inspiration from a compilation of stories from Liezi, a Taoist text in China compiled in the 4th century BC. The age-old fable is told in China to almost every school child and presents a story of an old man who wants to improve the lives of his children and grandchildren and decides to crush two mountains with his own flesh and blood that stand in the way. The unrealistic goal is supported by the man's decisive belief that after his death his children and their grandchildren will complete this objective.
Yang Fudong takes a look at this traditional Chinese fable from a new angle. The key message is that with dedication and persistence all obstacles can be surpassed and ventures subject to failure can be overcome, completed with Fudong's vision on contemporary problems. There are 3 parallel themes displayed in the film: the relationship between man and nature, disappearing traditions and the thinning connection between generations, and the isolation and lonesomeness of people in an unstable world.
The film speaks to the viewer on a subconscious level, switching in the recognition mechanism of breaking dreams, deeply hidden memories and random emotions. Observing the film is similar to browsing through an old photo album during which a series of carefully directed frames form an unstructured and unfocused story about the man's attempt to stand against the loss of certainty.
"Asian contemporary photography and film art are very enticing, yet in Estonia we are more familiar with the works of European or American artists. Namely for this reason it is an honor to welcome the exhibition of one of the most influential contemporary Chinese authors in Fotografiska Tallinn," explained Rain Tamm, Fotografiska Tallinn's co-founder and producer of "Moving Mountains". "It is remarkable how Fudong's creation touches the borders of photo and video art, expressing itself through the cognitive image. The author's message hereby is perceptible on a more intuitive level rather than being experienced. Incidentally, Fotografiska Tallinn will be taking a step closer to the world of cinema with this exhibition and this will be a great introduction to our nearing cooperation with the Tallinn Black Night's Film Festival," added Tamm.
Yang Fudong (1971) was born in Beijing and has studied painting and graphics in the Hangzhou Art Academy. He is one of the most prominent Chinese contemporary artists and directors. From the late 90s forward, Fudong has gained fame for his metaphysical black and white films and video installations. Based on traditional Chinese heritage, Fudong contemplates processes and state of mind in today's (Chinese) society and tries to define the role of human beings in a world changing at such speed. Fudong's work has been shown in the prominent museums and galleries of Europe, Asia as well as America.
Yang Fudong's "Moving Mountains" is opened at Fotografiska Tallinn from September 20th till December 1st.
60a/1
60a/2
60a/3
60a/5
60a/5
60a/9
60a/8
60a/7
60a/7
60a/4
P
60a/10
60a/6
Door to a world-class photography art center