Back to events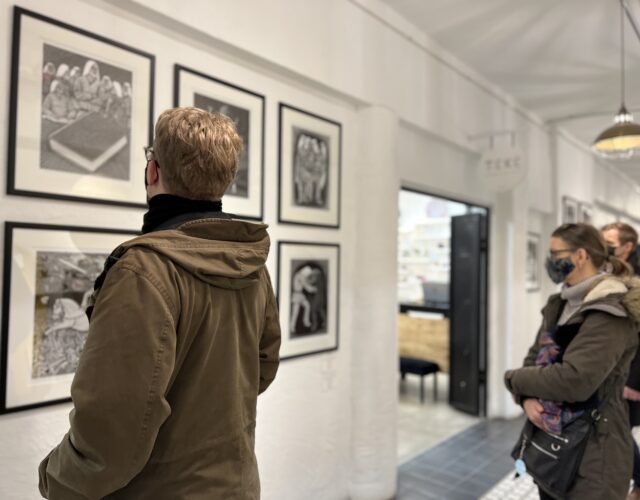 Exhibits, Näitus
Toomas Kuusing People and Little World Wonders. Linocuts.
Toomas Kuusing
 People and Little World Wonders. Linocuts.
The shepherd tells the pigs about the equality and the rabbits lecture the lions about the ruler's duties. Important people study fly shit and poor people freeze on top of the tree. Vegan eggs, headless chickens and karnivor killers. Winter swimmers, drinkers, fashionistas and flutists. The wicked ones, the homeless, a queen and Kalevipoeg. One says, "Not that my liver is sick, but I just don't want to drink," and the other says, "Let's grab everyone's hand and say OM!"
These moments and citizens created during the last 15 years have taken shape in Toomas Kuusing's exhibition People and Little World Wonders. Linocuts.
The exhibition provides a thorough overview of the artist's work since 2006, when social, everyday themes and quotations began to permeate Kuusing's work, portraying the lives of ordinary villagers, businessmen and biblical heroes in a tragicomic key.
The second part of the exposition focuses on the illustrations of the book created by Kuusing during the last five years: Lauri Sommer's Stories from the South (2016) and Endless Wishes (2020), Vahur Afanasyev's On the Brink of Bloom (2020) and Merca's All-in-in Silver (2021). Visuals created for the foreign language edition of Fr. R. Kreutzwald's national epic Son of Kalev are on display for the first time as the book will not be published until this year. Kuusing's illustrations convey precisely the texts of the works, but also bring out the artist's own interpretations "between the lines" of the linocuts.
Toomas Kuusing is known for his honest, allegorical, humorous, and at times naive style of expression. His masterfully executed linocuts convey both book narratives and abstract ideas. Kuusing is able to express himself in a fun but apt way, both linguistically and pictorially, reflecting well both people and everyday little wonders.
Toomas Kuusing (b. 1976) has worked as both a painter and a performance artist, but in the last few years he is mainly known for his linocuts. He studied at the Estonian Academy of Arts Academia Grata at Pärnu College and graduated from the Estonian Academy of Arts with a degree in liberal arts. Kuusing has been awarded several prizes, including Fr. R. Kreutzwald's Memorial Medal (2021), Führer Praiss (2021), Võru's Culture Pearl (2020), the Yerevan 2nd International Printmaking Biennial Diploma (2019), Graphic Designer of the Year Award (2013), Pärnu Printmaking Festival "IN Graphics" Grand Prix (2010, 2006 ), Pärnu City Art Prize (2008) ect.
The exhibition will continue in the second building of Telliskivi Creative City's Gallery and will remain open until February 27, 2022.
60a/1
60a/2
60a/3
60a/5
60a/5
60a/9
60a/8
60a/7
60a/7
60a/4
P
60a/10
60a/6
Outdoor Gallery
Backyard