Back to events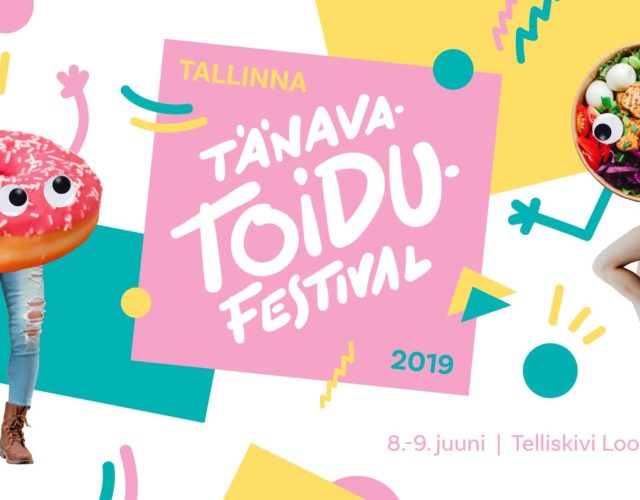 Festivals, Food, Party
Tallinn Street Food Festival 2019
Tallinn Street Food Festival
Telliskivi Creative City
http://xn--tnavatoidufestival-ltb.ee/en
June 8th, 11.00–19.00
June 9th, 11.00–18.00
Entrance 2 .- (pre-school kids FREE)
Tickets are sold in the festival gates by cash only
June 8th EVENING ZONE 19.00–23.59 @Freedom Square
FREE!
Gather around to join the biggest street food festival in Estonia.
More than 100 vendors, hundreds of flavors and surprising tastes. In addition to wonderful cuisines, the festival offers entertainment with workshops, cookery classes and much more.
🥕 FESTIVAL AREA 🥕
Food and action takes place in different zones:
*FREE RANGE – vegetarian and fresh
*HALLOO, FRITZ – burger and more
*CHINESE KARAOKE – international flavors
*FREEDOM SQUARE – center for the evening zone
*KIDS' AREA – workshops and fun
*FAMOUS OR STRANGE – suprising tastes and people!
*DOGS – clean water, food and toilet
🍒 VENDORS 🍒
Fresko&Göök, KrõbeRäim, Go Sushi, Vegan+, ISUTAJA, Jäämari, Restoran Pelgupaik, Elujanu vegan food truck, Lukumades, Nähtamatud Loomad, Krimchi, Fresh Smuutikohvik, Lummus Foods, Vahvlihaldjad, ÖKUT Kalamaja smuutid, Van Kook, Tillu Kodukohvik, Kusmiku (FIN), Burger Kitchen Tänavagurmee, FLOW Bowl, Otto & Mesi, UDU, ÖKU Food Truck, SALT, Alpro, TAPS, Van Foodie, Üks Köök, Taibaan, Dafu, Veg machine, Uulits Tänavagurmee, Aloha Bowl, Toidunaut, FS Food truck, Krõbevahvel, Koffik, Valmiermuiža Beer Kitchen, RUBY Food & Cafe, Hispatime, Sushi Brothers, Nermiini Köök Chef Nermiin, Grillchill Food truck, BiteMe, The Rocket Street Gastro, Sushi Plaza, Santa Maria Food Truck, Fotografiska – First Time Out, Naaberhuud, Kärbes, Velvet, Kivi Paber Käärid, La Muu, El Publico, Jäätisekohvik Jäätis, Lendav Taldrik, Pudel, Fika, Frenchy, Nudist Kitchen, Platzi kiosk, NuFace, Smiley Chilli, F-hoone, Reval Cafe, Kokomo Coffee Roasters, Grill ja Pruul, Grill ja Pruul Texas BBQ popup, Restoran Riis, Vegan+, VAO köök, Wrap'n'Roll, Ala turca, The Dumpling Truck, Akbana, Poke Bowl, Beijing Restoran, Indian Grill (SWE), China Red, Samsa Family Bakers, Mia&Leela, UQ BBQ, Desrainis24.lt (LT), Kaks Kokapoissi, Bueno Gourmet, Dereku Burger, BAO BUN LATVIA (LV), GustameChurros (LV), Meat Chef LV (LV), Vīnkalni (LV), Skrīveru mājas saldējums (LV), TATTI bubblewaffles (LV), Charlestons BBQ Food Truck (LV), VLND Burger, Oma Maitse, Q Argentina Grill.
🥦 MUSICAL AND ENTERTAINMENT MENU 🥦
reket, Lepatriinu, Rainer Ild, Sammalhabe, DJ Ringo Ringvee, DJ Mick Pedaja, DJ Daysleeper, DJ Don Erikson, DJ Quest, DJ Pärtel Vurma, The Boondocks, Kuku-Kuku, Lauri Täht, Kuu Elina jpt.
🍍KIDS' AREA 🍍
Sandwiches Beauty contest
Cookery classes
Foodtales from near and far
Drums
Veggie mandala
Summer patterns
Pere ja Kodu delicious workshops
🍓 STRANGE KITCHEN 🍓
Rainer Ild, The Boondocks, Minni Riar ja India Maitsed, Kellerteater.
🌽 DOGS' AREA 🌽
A place to stay, rest, eat, drink and play!
🥑 GREEN FESTIVAL 🥑
Green thinking and minimal impact on the environment!
Plastic straws are not allowed, all of the festival foods are served on reusable or biodegradable dishes, drinks are served only in reusable cups. We will also organise sensible waste management (and help our visitors to do the same).
🍇 PARTNERS 🍇
Flavours – Santa Maria
Lemonade – Fritz-kola
Kitchen Technique- Electrolux
Vege – Alpro
Aparaaditehas
Can't come to Tallinn?
Try one week later in Tartu Tänavatoidufestival – Tartu Street Food Festival 2019
http://xn--tnavatoidufestival-ltb.ee/tartu
*Stay tuned with the programme that will be announced soon.
*Entrance to festival 2€, free for kids up to 7 years old!
*The list of food vendors may change.
60a/1
60a/2
60a/3
60a/5
60a/5
60a/9
60a/8
60a/7
60a/7
60a/4
P
60a/10
60a/6
Outdoor Gallery
Backyard