Back to events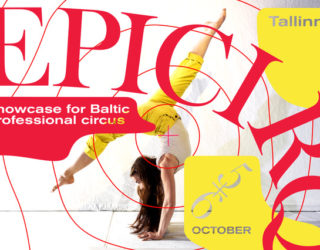 Muu
Showcase for Baltic professional circus EPICIRQX "Faux Pas"
EPICIRQ is a showcase for presenting the Baltic professional contemporary circus with the aim of increasing interest, exposure and export of the field within the region and in international level.
The programme is divided between the main programme (presenting full length or work in progress performances and pitch presentations), educational programme (workshops for movement professionals; discussions before and during the showcase), shorts programme (short act presentations during the afterparty) and extra programme (non-curated programme by local circus artists and companies).
The showcase has been brought alive by Estonian circus artists and enthusiasts. After the pilot of an Estonian showcase in 2018, EPICIRQ has decided to spread across Baltic states, widening the programme and strengthening the unique identity of Baltic contemporary circus.
(October 5 at 16:00-17:00) EPICIRQ opening: Lizeth Wolk "Teraapia", FAUX "Faux Pas" at Vaba Lava.
(October 6 at14:30-16:15) Soloneviena "Harry kolmas", Big Wolf Company "Eternal Dinner" at Vaba Lava.
More information  www.epicirq.com
60a/1
60a/2
60a/3
60a/5
60a/5
60a/9
60a/8
60a/7
60a/7
60a/4
P
60a/10
60a/6
Outdoor Gallery
Backyard
Siit sisse ja näitlema