Back to events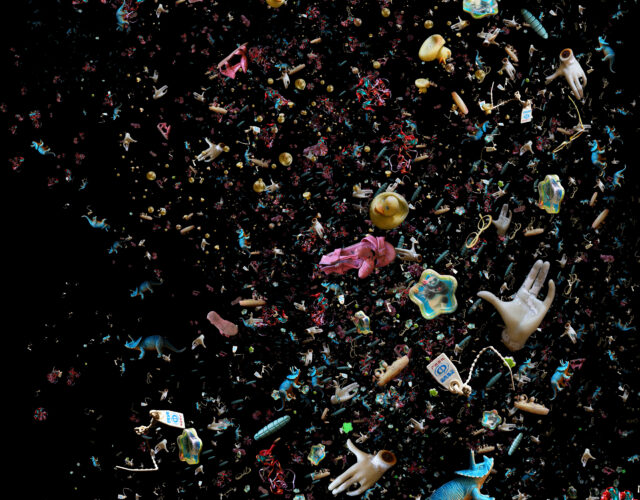 Exhibits
"Sea of Artifacts" by Mandy Barker
Fotografiska Tallinn's opening winter exhibition "Sea of Artifacts" brings attention to sea pollution
Fotografiska Tallinn's opening winter exhibition, Mandy Barker's "Sea of Artifacts" worries about the environment and brings attention to excessive plastic destroying nature around us.
It is estimated that more than 8 million tons of plastic are dumped in our oceans every year. From clothes to bags to furniture and toys, heavier plastic sinks, lighter floats on the surface. Some of the garbage drifts on the surface pushed by the currents, and accumulate – the most significant concentration of trash is known as the Great Pacific Garbage Patch, covering a stretch of water fifteen times the size of Estonia.
British artist Mandy Barker's photographs portray objects that she found when out collecting plastics in various locations around the world and then used to create her works. Works made from everything starting from doll arms and plastic bags through footballs and shoe laces to pieces of clothing and plastic flowers. "I see my role as an interpreter, to be aware of the facts about the harmful effects of marine plastics, to understand the facts and to present them in an accessible way, and through the research and my work, help to connect the science to a wider audience, and hopefully in some way change things for the better," said Mandy Barker about the main goal of her exhibition "Sea of Artifacts".
Barker is a unique photographer and activist, thanks to her artistry and collaboration with not only marine biologists on expeditions, but also the general public and various environmental organizations. They are striving to draw attention to this natural disaster affecting us all: countless future generations will be affected by all the plastic waste polluting our oceans. Even the world's oceanic trenches have become homes to plastic waste, with the plastic bags found in the deepest of them, the Mariana Trench in the Pacific Ocean, at a depth of 11,034 meters providing just one example. A place where scientists also found that every amphipod captured had at least one plastic fiber in its stomach.
Barker's photos hold a significant impact on us. The initial reaction is to the absolute beauty of the images until the realization hits us of what we are actually looking at: A plastic Armageddon. "In regards to scientists now believing it can be as much as 20 times more plastic in the sea then we have known before, goes to show that shocking discoveries are continually being made, and that we really do not know enough about the problem – much more research needs to be done, especially into the effects of marine plastic can affect human health," explained Barker why her goal is to help increase awareness of the existing problem.
"Plastic pollution on our planet has crossed the line beyond our imagination. Most of it is invisible thanks to microplastic particles that have found their way to our oceans. This is also the way it reaches our everyday food chains," told Maarja Loorents, co-founder of Fotografiska Tallinn and Exhibition Lead, why Mandy Barker's exhibition is so meaningful. "Ironically, it's not just microplastic particles that seem to be invisible. We tend to pretend that the huge floating garbage patches in the ocean don't exist. Fotografiska Tallinn aims to raise awareness of the problem, and we hope that Barker's "Sea of Artifacts" supports this goal," continued Loorents.
Mandy Barker was born in 1964 and raised in Hull, a city on the River Humber. In 2018, Barker received the National Geographic Society Grant for Research and Exploration for her unwavering efforts, which has allowed her to take part in two unique expeditions in 2019. One to Lord Howe Island to study the declining Shearwater sea bird colony due to plastic ingestion, and also to the remote and uninhabited Henderson Island which is also named as the most plastic polluted island on the planet. In 2017 her first book, Beyond Drifting, was included in the Smithsonian's list of the best photography books of 2017. Her latest book, Altered Ocean, is a comprehensive collection of photos showing the catastrophic consequences of the plastics polluting our oceans and was published in April 2019.
The exhibition "Sea of Artifacts" is opened at Fotografiska Tallinn from November 15th till February 9th. Mandy Barker will be present at the opening of her exhibition in Tallinn and will talk about her work at the Artist Talk.
60a/1
60a/2
60a/3
60a/5
60a/5
60a/9
60a/8
60a/7
60a/7
60a/4
P
60a/10
60a/6
Outdoor Gallery
Backyard
Uks maailmatasemel fotokunstikeskusesse