Back to events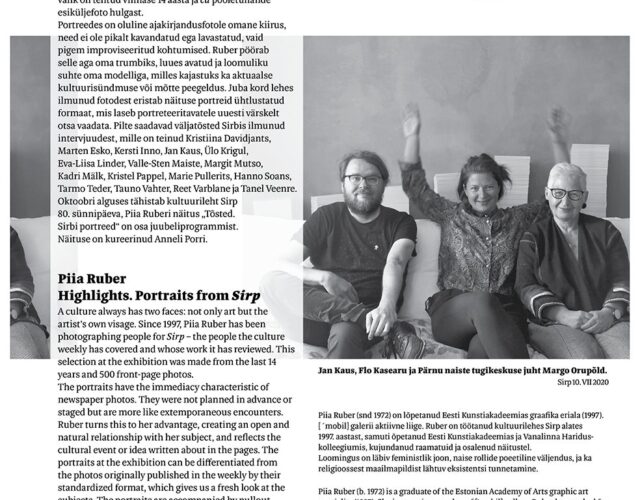 Exhibits, Näitus
Piia Ruber "Highlights. Portraits from sirp"
A culture always has two faces: not only art but the artist's own visage. since 1977, Piia Ruber has been photographing people for sirp – th epeople the culture weekly has covered and whose work it has reviewed. This selection at the exhibition was made from the last years abd 500 fron-page photos.
Te portraits have the immediacy characteristic of newspaper photos. They were not planned in advance or staged but are more like extemporaneous encounters. ruber turns this to her advantage, creating an open and natural raltionship with her subject, and reflects the cultural event or idead written about in the pages.
The portraits are accompanied by pullout quotes from the interviews. The exhibition is curated by Anneli Porri.
Piia Ruber (b. 1972) graduated Estonian Academy of Arts. she is a member of ['mobil] gallery. ruber has wrked for Sirp since 1997, also teaching at the Estonian Academy of Arts and the Old Town Educational College, designnng boks and participating at exhibitions. Elements that run trough her work include a feminist element – a poetic expression of female roles – and a sensibility stemming from a religious worlwiew.
60a/1
60a/2
60a/3
60a/5
60a/5
60a/9
60a/8
60a/7
60a/7
60a/4
P
60a/10
60a/6
Outdoor Gallery
Backyard