Back to events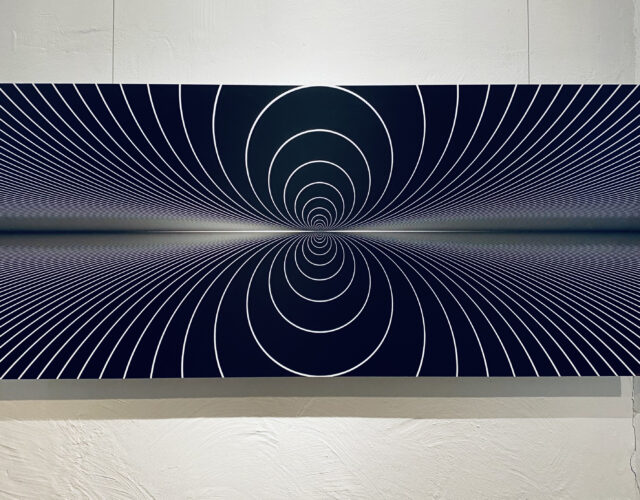 Exhibits, Näitus
Taavi Tulev Infinity +1
"Infinity + 1" invites you to a journey to psychedelic and optical geometry.
Taavi Tulev's digital designs play with the viewer's biological peculiarities and open spatially through the eyes' nerve impulses. The geometries or tripping mandalas made up by fine lines steer to the state of peace, quiet, zen. Patterns that are born from the artist's dreams and visions reach to guide both the viewer and the creator far from the busy world outside the works, from social problems and positions. Exact mathematics and finely polished details ranging from micrometers to kilometers, transform into origins of the primordial consciousness. Just as infinity has no end or edge, no beginning or end, so the images in the exhibition have no boundaries. Dimensions referring to op art emerge from the visuals while landing or starting a journey in the viewer's inner space.
The intensive works of the "Infinity +1" series take a lot of attention and invite the viewer to an inward trip during focused observation. "The hasty world outside the exhibition could completely disappear when entering the pictures and experience activated by the visuals," describes Tulev the ambition of the works.
Taavi Tulev (b. 1984) is mainly known for his music. His sounds are characterized and shaped by minimalist electronics and technological soundscapes. In balance with electronic music, he records unspoiled natural environments. 
"Infinity + 1" is a sequel to the exhibition "Infinity" (Vaal Gallery, 2021).
The exhibition is up at Telliskivi Creative City's Gallery until November 30, 2021.
60a/1
60a/2
60a/3
60a/5
60a/5
60a/9
60a/8
60a/7
60a/7
60a/4
P
60a/10
60a/6
Outdoor Gallery
Backyard