Back to events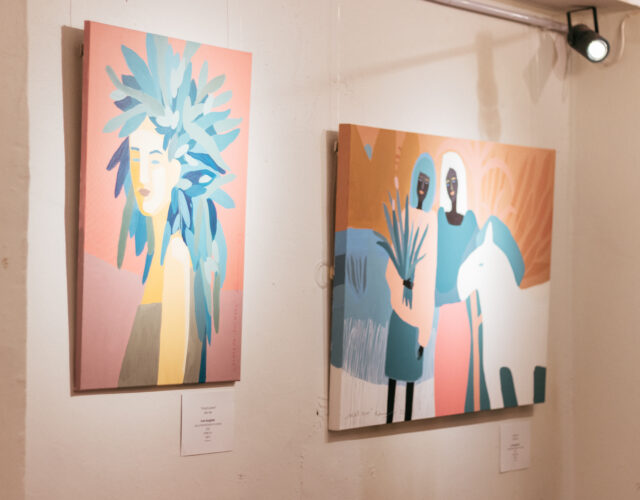 Exhibits
Kristi Kangilaski Meaningless Fishes
The painting series Meaningless Fishes has emerged from unexpected, short momentary pauses – like fish that swim by at random moments, look deeply and mysteriously into the eyes to spread a piece of an idea. The fish, which have made their way to some paintings, rather symbolise mental errors which arise when, for example, meeting three pink flamingos in the dark Estonian winter. 
Kristi Kangilaski's new paintings have been completed organically and quickly, just as it is customary for the artist to create. The colours have landed on the canvases when potatoes are boiling, the washing machine hasn't yet finished, or children should theoretically already be sleeping. Ideas that have slipped the mind in short moments of Estonian autumn idleness, have instinctively jumped on the works as in automatic painting. The leftover colours of one painting continue on the other and grow into compositions with the support of random notes stored in a sketchbook. Kangilaski's paintings are honest and genuine, free from overthinking. Values important to the artist such as joy, humour and a secret desire for vacation run through the colourful paintings as an unbroken thread.
Kristi Kangilaski (b. 1982) has studied graphics at the Estonian Academy of Arts. In addition to illustration, writing and design work, she has been working as a teacher at the Viljandi Art School since 2014 and as Viljandi's city artist since 2020. She has participated in exhibitions in Estonia, Italy, Latvia, Poland, Germany, Slovakia, Finland, Hungary, Belarus, Russia and Great Britain. Kristi Kangilaski is a member of the Estonian Graphic Designers Association.
60a/1
60a/2
60a/3
60a/5
60a/5
60a/9
60a/8
60a/7
60a/7
60a/4
P
60a/10
60a/6
Outdoor Gallery
Backyard