Back to events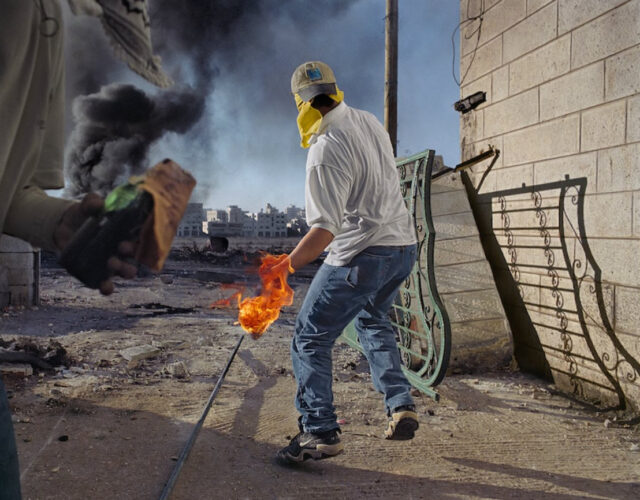 Exhibits
"Memoria" by James Nachtwey
Photojournalist James Nachtwey's exhibition "Memoria" opened in Fotografiska Tallinn
Starting from today, James Nachtwey's exhibition "Memoria" is opened in Fotografiska Tallinn. It is a recollection of Nachtwey's decades long life work – reportages from epicenters of crises and places torn by wars.
As a photographer, he is gifted with the ability to capture striking compositions, acting as an observer of the world in which we live often endangering his own life, but always with the greatest respect for the most vulnerable – the civilian casualties. Nachtwey is an extraordinary observer and an acute witness, who has devoted his career to documenting some of the most crucial issues of contemporary history. His exhibition "Memoria" is a retrospective recollection of his most remarkable works.
James Nachtwey was influenced to become a photographer by images of the Vietnam War and the American Civil Rights Movement. He began his career as a newspaper photographer in 1976 and became a freelance in 1980. Since then, he has worked worldwide, committed to documenting wars and critical social issues.
Nachtwey has been a contract photographer with TIME Magazine since 1984. He was a member of Magnum between 1986 and 2000 and was one of the founders of the photo agency VII, where he was a member from 2001 to 2008 when he became independent. Nachtwey's images focus on the impact of injustice and violence, yet they evoke a sense of compassion and sympathy. Within large-scale historical events of global impact, he documents intimate moments of humanity. His photographs can appear to have formal completeness, but they are spontaneous, intuitive, and often composed in a fraction of a second.
"For me, photography is not a way to impose on reality what I think I already know. It's an exploration – one pair of eyes, one mind, one heart, moving through the real world in real time, trying to tell the stories of what happens to people, one-by-one, at the sharp end of history; stories that society needs in order to function properly; to assess contemporary events, to make well informed decisions, to continually learn about ourselves, " told James Nachtwey about his life work. "Eventually, the scope of my work expanded beyond war, to include many other circumstances; where there were social injustices crying out to be corrected, humanitarian emergencies and natural disasters requiring immediate action, health issues in need of greater attention," continued Nachtwey.
"James Nachtwey's thought-provoking and painful photos remind of our recent history and the world we actually live in. Journalists and press photographers tell us stories that we would otherwise never hear of. Nachtwey's "Memoria" is an exceptional possibility to reflect on the challenges that humankind has to face and what is the actual price of it," explained Maarja Loorents, Fotografiska Tallinn's co-founder and exhibition lead, the significance of the new exhibition.
Nachtwey has received numerous awards from the journalism profession, as well as for his contributions to art and to humanitarian causes. In 2001 he was a recipient of the Common Wealth Award. In 2003 he received the Dan David Prize, and in 2007 the TED Prize as well as the Heinz Award for Arts and Humanities. In 2012 he received the Dresden Prize for promoting international peace. In 2016, Nachtwey was a recipient of the Princess of Asturias Award. In 2017, he was inducted into the International Photography Hall of Fame. In 2019 he was honored by the Academy of Achievement.
Five times Nachtwey has been awarded the Robert Capa Gold Medal for exceptional courage and enterprise. He has been named Magazine Photographer of the Year eight times. He's received the photograph of the year award from the World Press Photo Foundation twice, the Infinity Award for photojournalism three times, the Bayeaux Award for war correspondents twice, and the Leica Award twice. He has been the recipient of lifetime achievement awards from the Overseas Press Club, TIME, Inc., and the American Society of Magazine Editors. In addition, he has received the Henry Luce Award for corporate leadership, the Leipzig Foundation award for the advancement of freedom of the press, and the Dr. Jean Mayer Global Citizenship Award.
In 2001, "War Photographer", a feature length documentary film, directed by Christian Frei, about the life and work of James Nachtwey was nominated for an Academy Award. His books include Deeds of War and Inferno.
Nachtwey's photographs are included in the permanent collections of the Museum of Modern Art, the Whitney Museum of American Art, the San Francisco Museum of Modern Art, the Boston Museum of Fine Arts, the National Gallery in Washington DC, the Bibliotheque Nationale de France, the Pompidou Center and the Getty Museum among other venues.  He has had numerous solo exhibitions worldwide.
He has received honorary doctorate degrees from Dartmouth College, Academy of Art University, Massachusetts College of Art and St. Michaels College and an honorary professorship from Shandong University.
As he continues his work in the field as a practicing documentary photographer, Nachtwey has become a Provostial Fellow at Dartmouth, which has acquired the archive of his life's work.∙
James Nachtwey's exhibition "Memoria" is opened in Fotografiska Tallinn from November 29th till March 1st.
60a/1
60a/2
60a/3
60a/5
60a/5
60a/9
60a/8
60a/7
60a/7
60a/4
P
60a/10
60a/6
Outdoor Gallery
Backyard
Uks maailmatasemel fotokunstikeskusesse