Back to events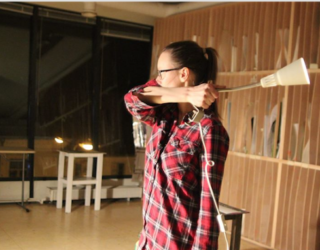 Ma tean, mida sa eelmisel etendusel ei näinud.
Võib-olla sa ootad sellest midagi.
Aga ma nihkun.
Sinu ootused ja minu kohatus.
On pühapäev ning
ma olen inimloomanäitus –
inimloom on eitus.
Choreographer: Elise Laius
Inimloom: Eveli Maksim
Many thanks to Rommi Ruttas, Carl Heinrich Pruun and  Kai Valtna!
60a/1
60a/2
60a/3
60a/5
60a/5
60a/9
60a/8
60a/7
60a/7
60a/4
P
60a/10
60a/6
Outdoor Gallery
Backyard
Siit sisse ja näitlema