Back to events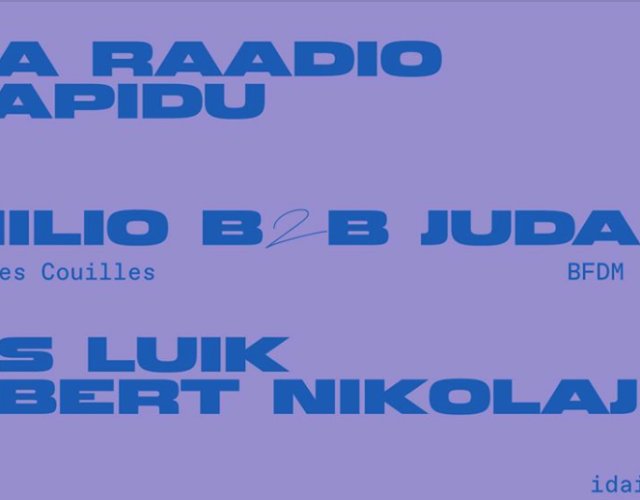 Party
IDA Raadio Opening Party w/ Judaah & Emilio
IDA is a new independent online-radio.
Friends from France Rinse FM will join us for the opening party.
❒❒❒ Judaah b2b Emilio (Brothers From Different Mothers / Fusion mes couilles) ❒❒❒
Judaah has helped shed a crucial light on the booming new wave of talents that's been unfurling in the Rhônes area and its surroundings, gathering around him a close-knit cast of likeminded producers and DJs, all driven by a true sense of fraternity and a shared desire to make their contribution to the rising underground scene. Continuing his ceaseless search for fresh sounds and genre-busting gems, Judaah has expanded his operations to new territories: as a booker at Bi:Pole agency and head of programming at the newly-launched floating club, Razzle.
Emilo is one of the heads and a resident at the legendary Fusion Mes Couilles party in Paris. A collective that wants to break the standards by bringing a touch of "lightness" to Parisian parties.
warm up:
❒ Nikolajev & Ats Luik ❒
Pilet 5€
60a/1
60a/2
60a/3
60a/5
60a/5
60a/9
60a/8
60a/7
60a/7
60a/4
P
60a/10
60a/6
Outdoor Gallery
Backyard