Back to events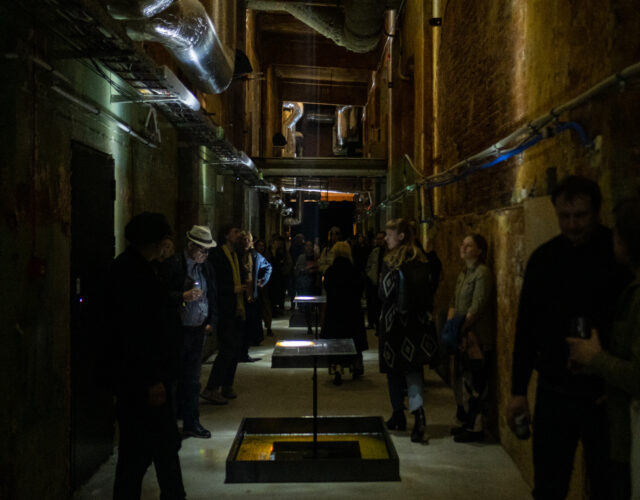 Exhibits
Sound Art Installation Time Lines
Time Lines reflects on concepts of time and their resulting consequences for society and climate. The 60-metre-long spatial installation juxtaposes the fleeting nature of events and the passing of moments with a multidimensional perception of time. It touches upon the impending tipping points of global climate change as well as personal experiences of temporal disorientation.
The work explores various notions of time, such as linearity, circularity, multi-temporality, simultaneity, inversion, acceleration, retardation, repetition, alteration, phasing and timelessness. It decouples auditory and visual perception, creating fragile moments of trembling time. Additionally spatial movement, time, and rhythm are melting into a unified experience, blurring the boundaries between them.
The piece is composed in a circular form of seventeen minutes with no beginning or ending. Therefore, the audience is invited to enter at any moment, move freely and stay as long as desired.  
Time Lines offers a journey through a dreamlike corridor of sound, rhythm, light, and water. The elements create a surreal, dystopian, rainforest-like environment where water drips onto metal plates from a height of six meters, light stretches and reverses the perception of time, and sound passes as musical shadows.
Since 2009 the composers Martin Recker (1991) and Paul Hauptmeier (1993) have been working together as an artist duo in the field of sound- and multimedia art. Together they studied composition with Robin Minard and Maximilian Marcoll at the Hochschule für Musik FRANZ LISZT Weimar, as well as at the "University of California San Diego" with Katharina Rosenberger, Natacha Diels and Miller Puckette. (Paul Hauptmeier) and at the Sibelius Academy Hesinki with Marianne Decoster-Taivalkoski (Martin Recker).
In addition to works for theatre and opera, live electronics, radio and electro-acoustic music, their focus lies on sound installations in public spaces.
They are co-founders and board members of the ZiMMT – Center for Immersive Media Art, Music and Technology – in Leipzig. There they conduct research in the field of spatial audio and organize workshops, panels, concerts and exhibitions on the subject. (www.zimmt.net)
Since October 2022 they have shared a position as "künstlerischer Mitarbeiter" at Burg Giebichenstein in Halle Germany, where they teach sound art in the study program of time-based arts.
Further information can be found on the website: https://www.hauptmeier-recker.de/
Exhibition team: Jaanus Juss, Mikk Lankots, Sigrid Kaljund, Bianka Soe, Joonas Parve 
Teksti tõlkija: Kaisa Kaer
Tänud: Victor Mazon Gardoqui
Installation is created for the art festival I Don't Get It and organised by Telliskivi Creative City. 
60a/1
60a/2
60a/3
60a/5
60a/5
60a/9
60a/8
60a/7
60a/7
60a/4
P
60a/10
60a/6
Outdoor Gallery
Backyard
Enter from this door!