Back to events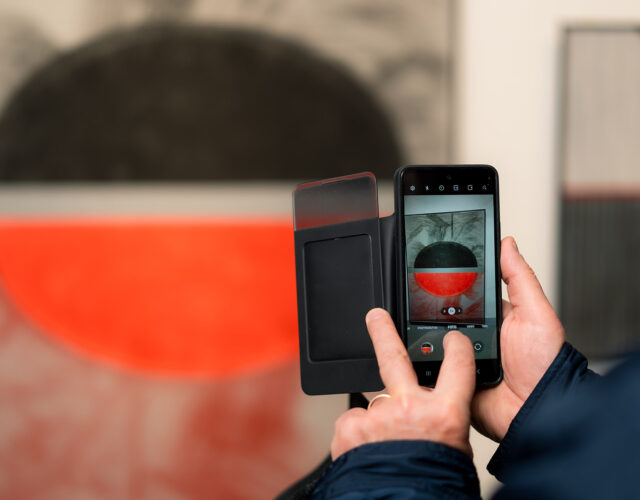 Exhibits
Evi Tihemets "Experiential Geometry"
The exhibition "Experiential Geometry" showcases the versatile printmaker Evi Tihemets and her form experiments rooted in shapes and colour. The exhibition shows her work spanning the period from 1967 up to today. 
The common thread through the exhibition is the geometry that keeps emerging in the artist's works – lines, arcs, corners, spheres, spots –, growing out of emotional personal experience or conversely, serving as the initial impulse for stories that subsequently become figural. Tihemets' work has been characterised as lyrical, feminine, and reminiscent of fairy tales; her oeuvre includes detailed romantic tales as well as scenic landscapes and solemn portraits. However, Tihemets has gained renown as the creator of unique abstract compositions. Her geometric constructions include both serene and mystical environments and industrial landscapes, as well as astute snapshots with pop art aesthetic – the experience of geometry based on colour and shape.
According to Tihemets, her abstract work has been influenced by her extensive experience in illustrating books because illustration calls for the visualisation of a narrative in a way that is as concentrated and clear as possible. Colours have consistently had a significant role in her work. Tihemets was among the first artists to introduce colour into printmaking techniques as an important tool for expression as early as the late 1960s. Many works on display here show the expression of an intense, even explosive emotion that occurs when colours and shapes meet. In particular, red features prominently because it was one of the few high quality tones available to printmakers during the Soviet period, but it has also remained the main character in some of her more recent works. 
The exhibition is curated by Bianka Soe.
Printmaker Evi Tihemets (born in 1932) has worked with many different techniques, mainly colour lithography, soft-ground etching and other intaglio techniques and mixed techniques. She has made minigraphics, portraits and monumental works, illustrated books, and depicted both nature and industrial landscapes. Tihemets is part of the generation of artists who modernised printmaking in the late 1950s and early 1960s and continued to influence the development of printmaking. Her work has a distinctly grandiose and clear form and lyric nature. Tihemets has been actively showing her work since 1958. Her works have been exhibited in Estonia and many other countries. She is the recipient of the Wiiralt Art Prize (2011) and the Kristjan Raud Art Award (1992, 2013).
60a/1
60a/2
60a/3
60a/5
60a/5
60a/9
60a/8
60a/7
60a/7
60a/4
P
60a/10
60a/6
Outdoor Gallery
Backyard
The gallery is located on the shopping streets!