Back to events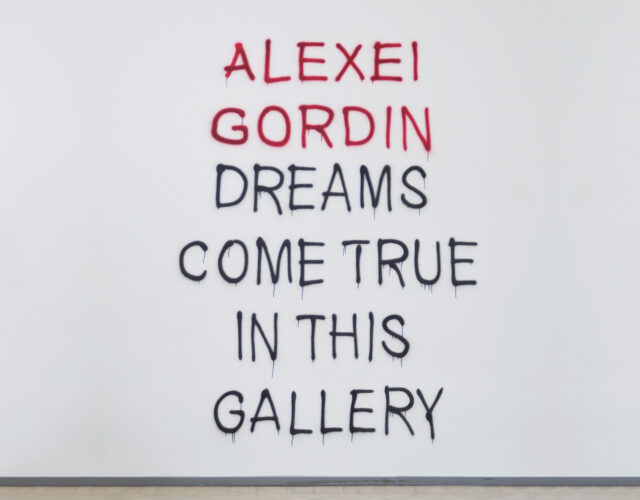 Exhibits, Näitus
Alexei Gordin "Dreams Come True in this Gallery"
On Friday, 2nd of June at 6 pm Alexei Gordin will open his solo exhibition at Vaal Gallery titled "Dreams Come True in this Gallery". The exhibition will remain open until 1st of July.
Tue–Fri 12–6 pm, Sat 12–4 pm.
Telliskivi 60A/5, Tallinn
"Recently, I was scanning the traces of my online existence and dug up my very first posted artwork, a 2006 pencil drawing called 'A Place Under the Sun'. It has been 16 years since it happened, 10 of which I've been part of the professional art world, but the question about the right place under the Sun is still relevant. So where is the artist's place?
To answer this question, one can speculate on various topics, but one thing is clear to me – the artist's place is in the gallery. This can be taken as a devastating fact, because the principles and aims of art are beyond the four walls. In reality, however, it is between the walls of the gallery where professional art begins and ends, because only there can it be professionally rated. To quote O. Doherty: 'From this moment on, there is a seepage of energy from art to its surroundings. With time the ratio between the literalization of art and mythification of the gallery inversely increases'."
The exhibition "Dreams Come True in this Gallery" is a parody of a situation where someone is trying to find a way out of the art that is currently drowned in the gallery space. The title comes from the aesthetics of advertising industry, where market players sell promises to their customers that their dreams will come true, but the more the consumer invests energy in fulfilling their dreams, the more distant those dreams remain. Gordin's approach to the question of the artist's place under the Sun is autobiographical rather than conceptual. In philosophical terms, the artist's place becomes ephemeral, dissolving into temporary concepts, residencies and biennials.
Alexei Gordin (b 1989) is mainly known as a painter, however, he also works with photography, video and performance. Using black humour, Gordin draws attention to the absurdity of the (art) world and alienation, highlighting issues like inequality and the difficulties of marginalised groups. Gordin's work is influenced by caricatures and it combines texts and pictures, referring to comics and meme culture.
The exhibition is sponsored by the Cultural Endowment of Estonia, and Purtse Pruulikoda.
60a/1
60a/2
60a/3
60a/5
60a/5
60a/9
60a/8
60a/7
60a/7
60a/4
P
60a/10
60a/6
Outdoor Gallery
Backyard