Tagasi sündmuste juurde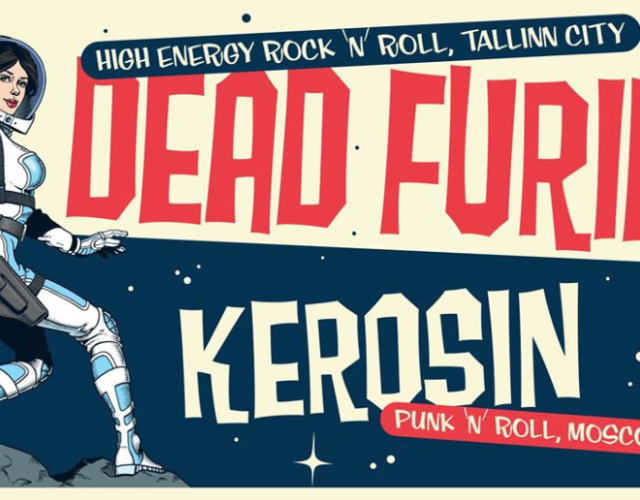 Muusika, Pidu
Dead Furies & Kerosin (RUS)
DEAD FURIES
"This is the kinda shit we should all be listening to, all the time. It's swaggering, obnoxious, full-tilt gonzo rock 'n' roll created by three dead-enders with nowhere to go and all night to get there." – Classic Rock Magazine
"Rock music from Estonia established a spot on my musical map, thanks to the Dead Furies." – Uber Rock
Dead Furies was formed in the beginning of 2016 in Tallinn, Estonia by vocalist / guitarist Ardo, bassist Robert and drummer Erik who all go by the surname Fury.
As the title of their debut album "No Talkin' All Action" hints, the band went full gear from the start and hasn't pulled the brakes since. They started rehearsing intensely and released their first single "Listen to T. Rex" with a music video in June. The single was put into a heavy rotation on Estonia's biggest radio station Raadio 2.
With their first gig booked, Ardo Fury broke his right-hand wrist in a skateboarding accident and he had to play the gig with a cast. This pretty much sums up how the Dead Furies operate – nothing can stop their rock 'n' roll. All the obstacles will be surpassed without a second thought.
On their second album "Rock City a Go Go" they took influences from 70's proto punks like Iggy And The Stooges / MC5 and also 90's garage rockers like New Bomb Turks / Rocket From The Crypt and put it all in a blender.
—
KEROSIN
Kerosin are a Moscow punk 'n' roll band formed in 2008. Their music is a mix of classic rock 'n' roll / rockabilly & punk rock.
Through these years Kerosin released 4 LPs and one split (with a finland band MEAN IDOLS), did about 300 shows and play together with such legends as The Adicts (in 2014 in Moscow) and the gods of horror punk Misfits (twice).
They are recording a new album and touring the world with a 10 years anniversary tour.
—
TICKET: 8€
60a/1
60a/2
60a/3
60a/5
60a/5
60a/9
60a/8
60a/7
60a/7
60a/4
P
60a/10
60a/6
Väligalerii
Tagahoov
Tule siit sisse